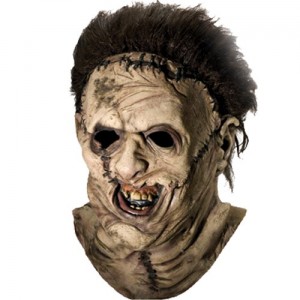 Oh my goodness, did you ever see anything so freaky looking close up, this really is the real deal and will be a fantastic Texas Chainsaw accessory for any Halloween or fancy dress party this year at which you're planning to wear a Leatherface Costume. Would you like to buy a Texas Chainsaw Massacre mask?
The Leatherface mask is said to be made up from the many victims faces who felt the full force of the terrifying killer, Thomas Hewitt AKA Leatherface. He is portrayed in the movies as walking around the grounds of his house as well as the forest of Texas wearing this mask over his own grotesque and deformed face.
This Leatherface mask has every single details you will will need to look just like the gruesome sadistic killer, that is Thomas Hewitt! Starting at the top of the head this mask has dark brown hair which s brushed back just above the head to reveal the stitching which holds the top part of the mask together. Moving lower down you can see where the face mask has being put together using several different faces, stitched together with large dark black stitching. The mouth and nose of the mask as severely deformed, just like the real face of Thomas Hewitt.
If you want to scare your friends this year then this Leatherface mask will either be a fantastic upgrade to the mask which comes with the standard Texas Chainsaw costume or it will be a great piece to help you put together your very own Ccostume.